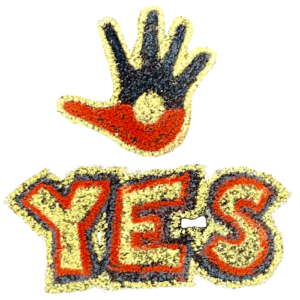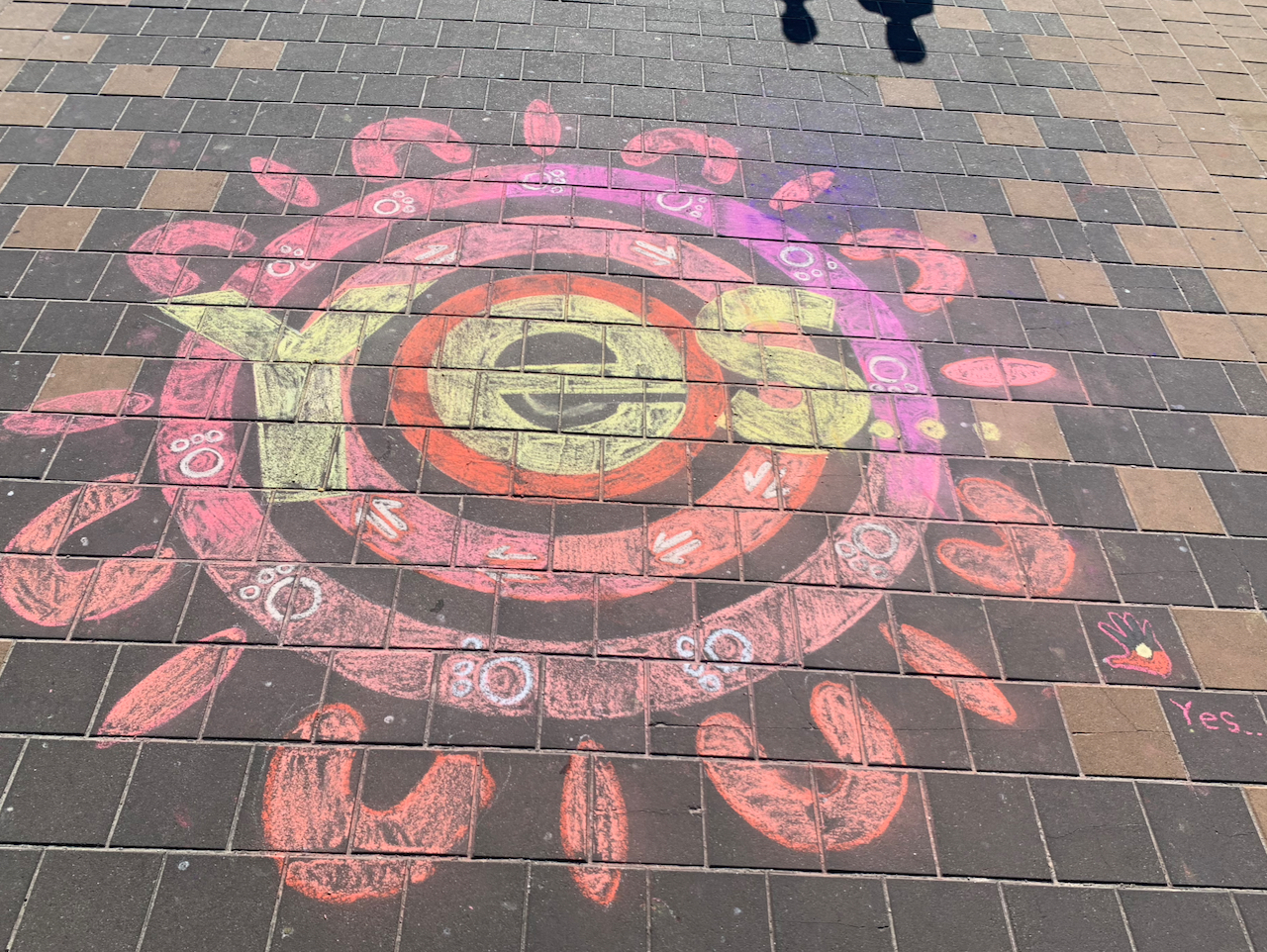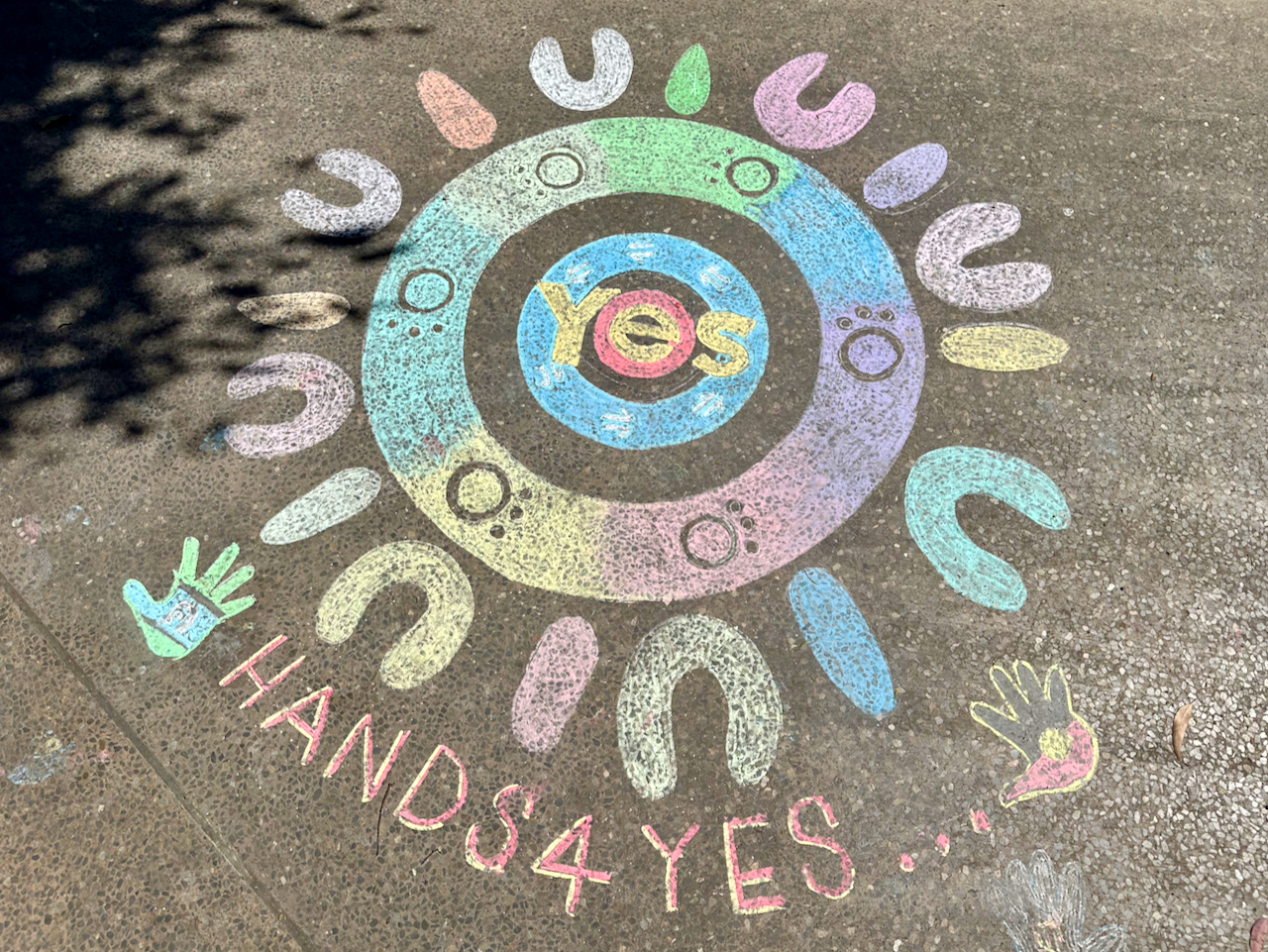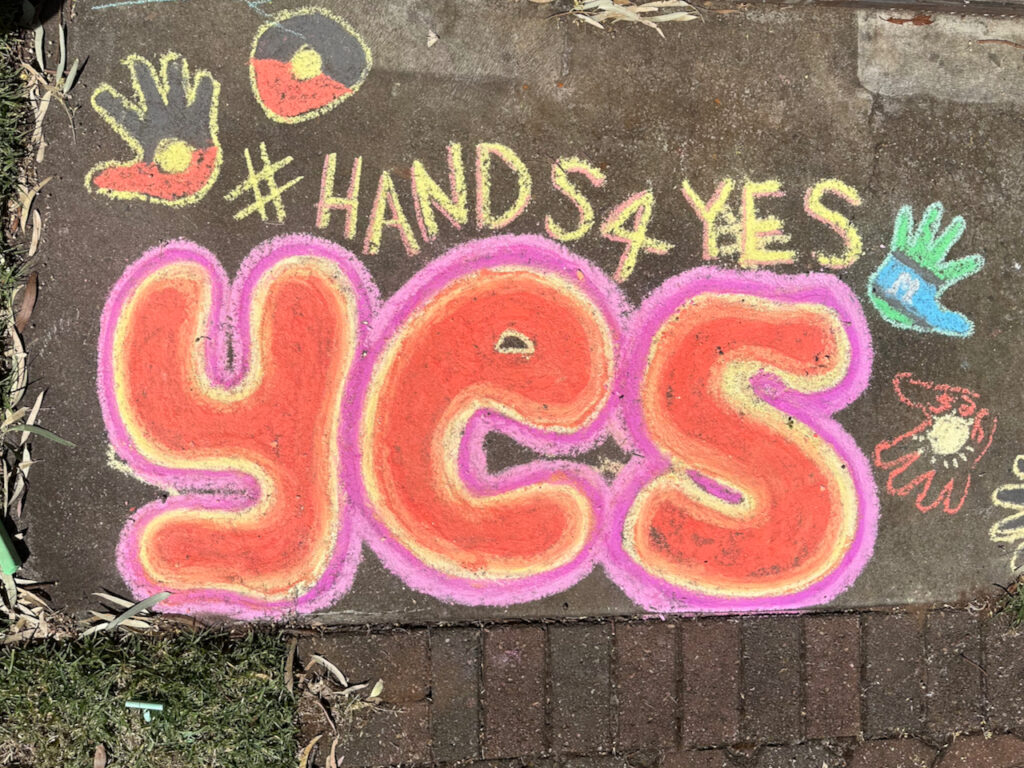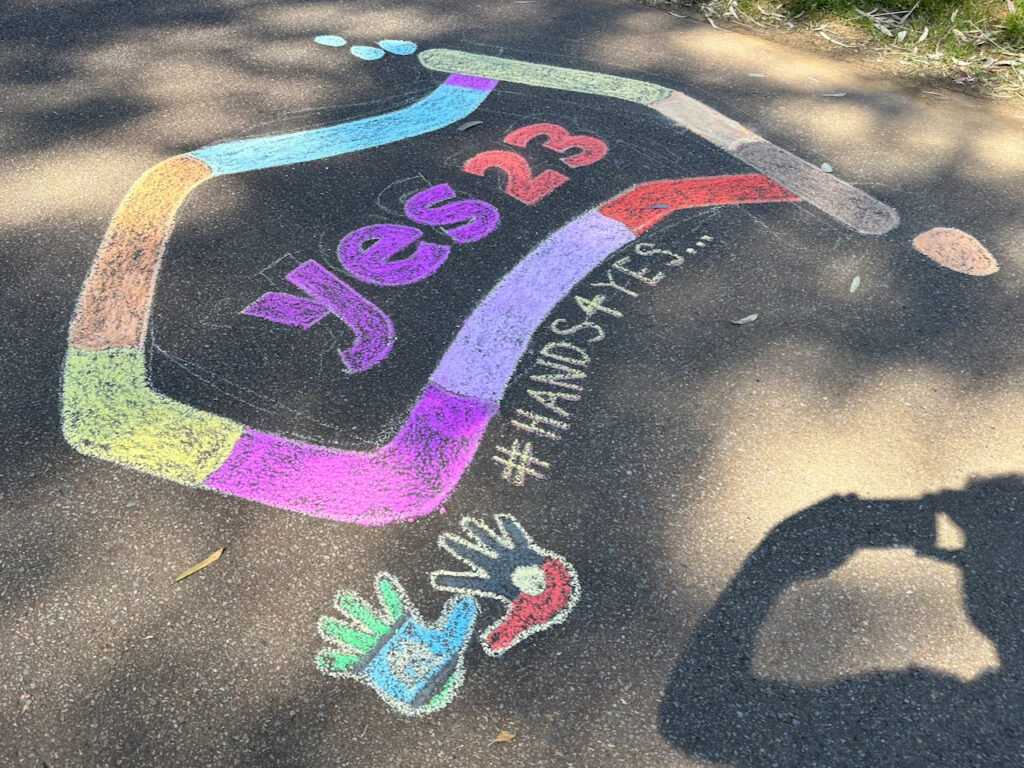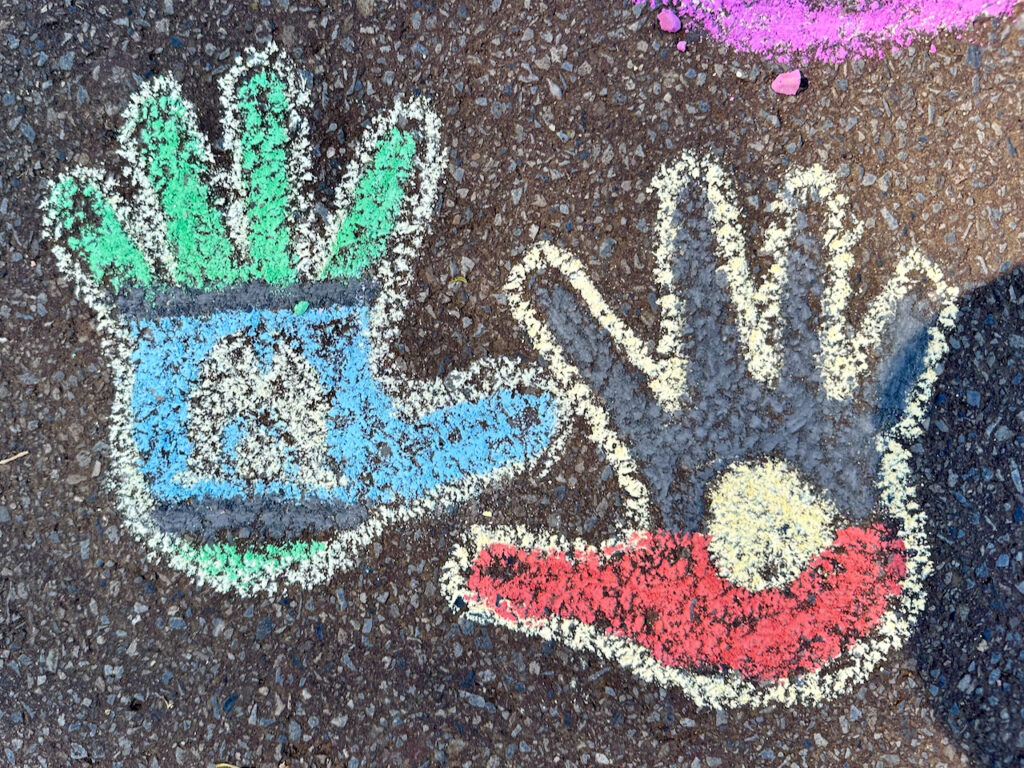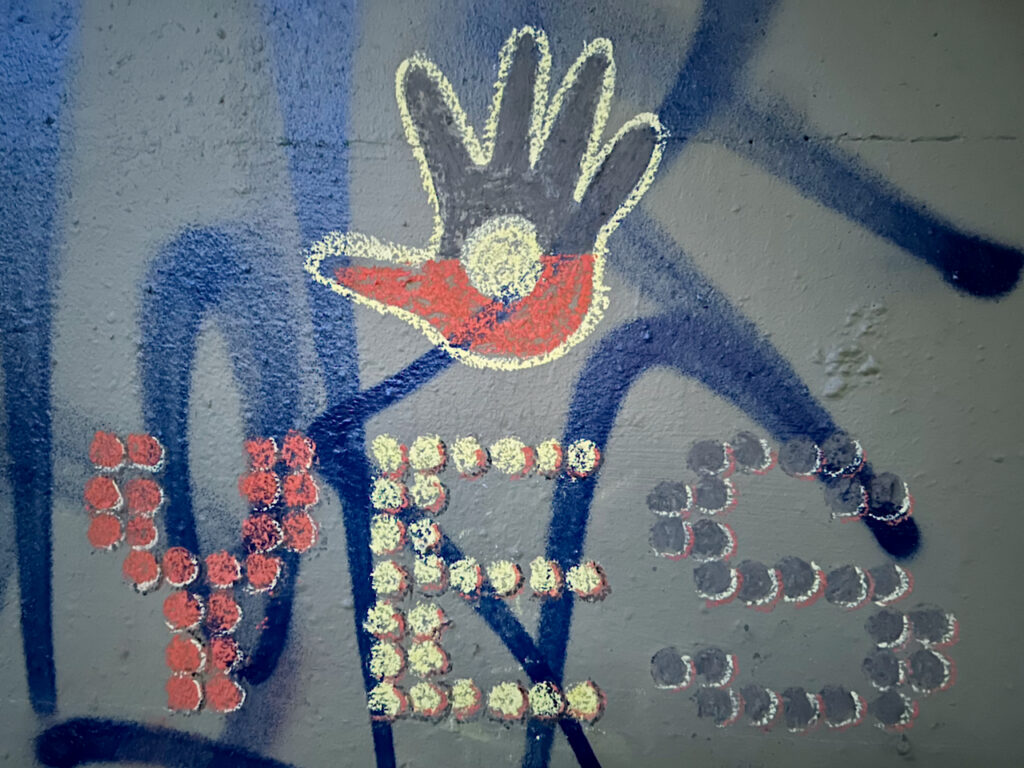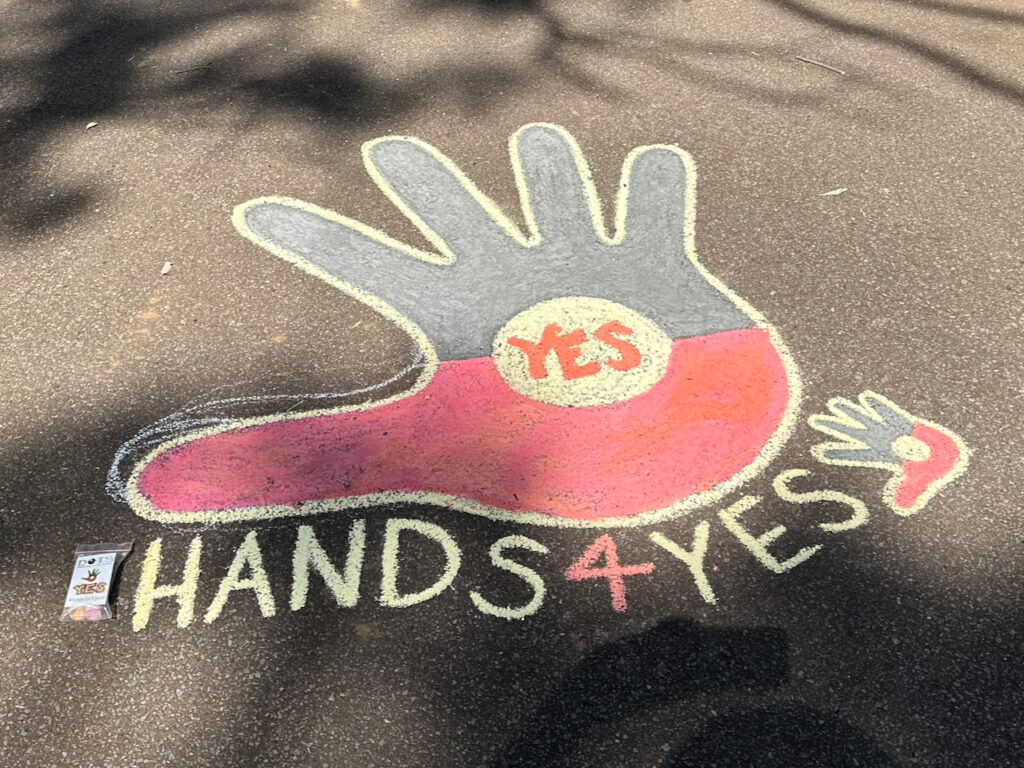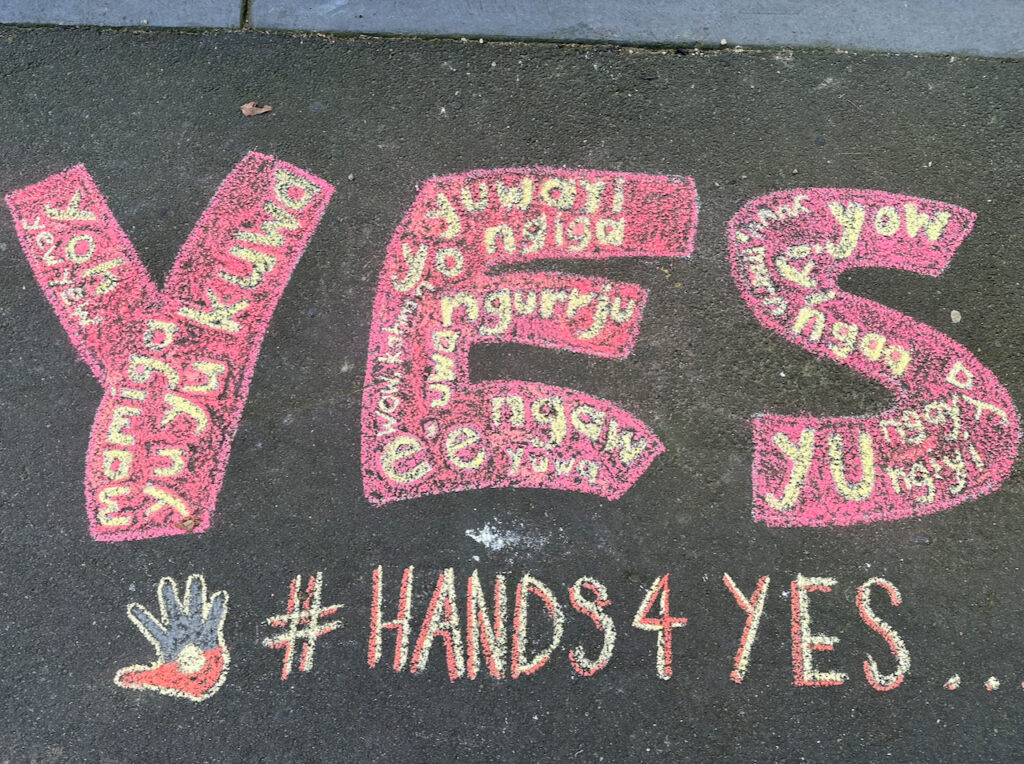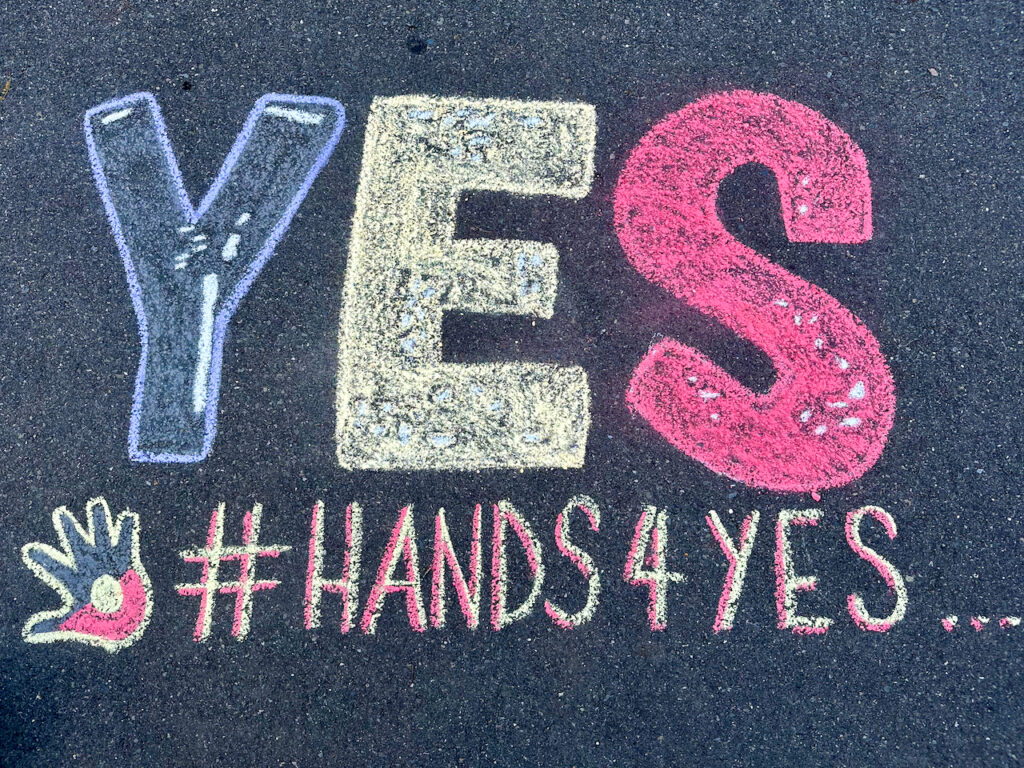 Make Your Mark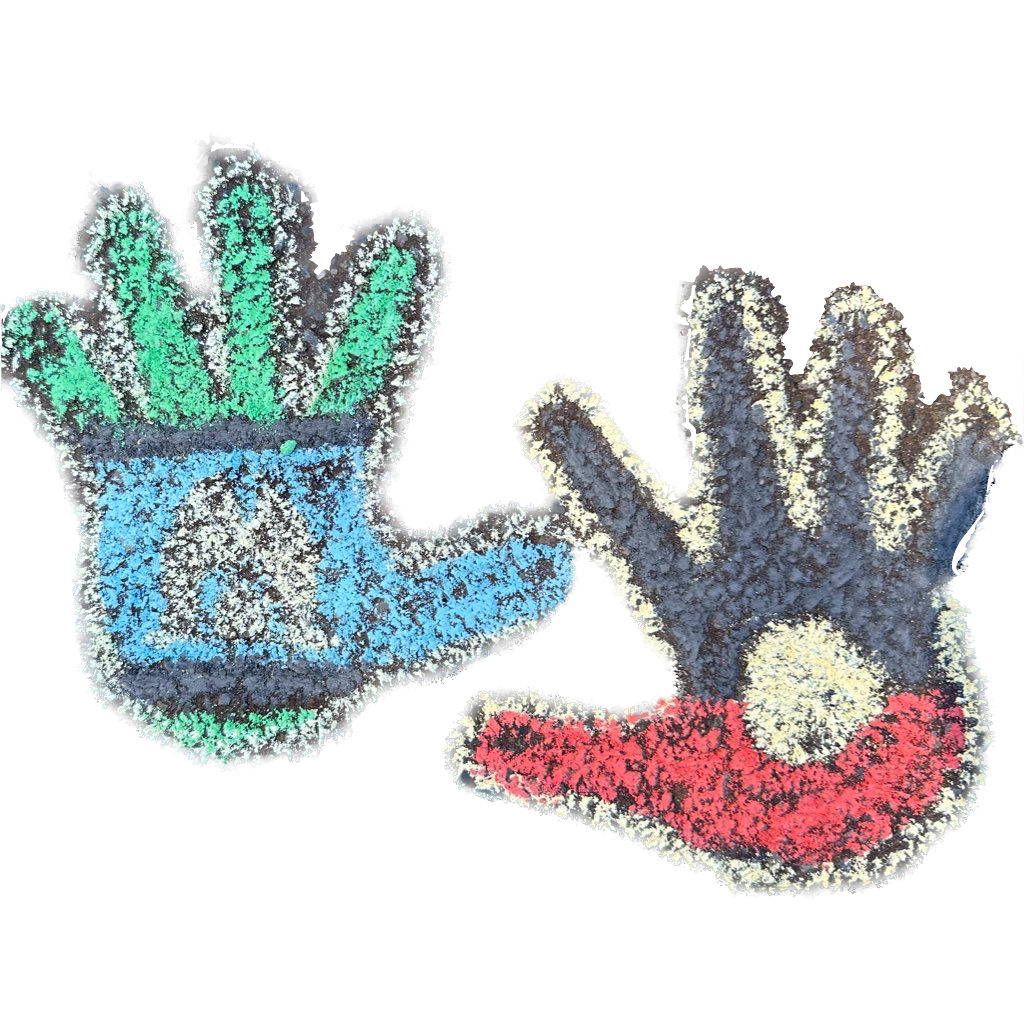 We're inviting everyone, everywhere to get chalk, and get chalking, for YES.
Since earliest times people have used carefully placed handprints to create meaning and turn space into place.
What better way to connect this moment to the oldest living culture than with a sea of hands for YES?
With it echoes of ochre, and its universal availability and charm, chalk is the perfect medium. Let's go!
Lend a Hand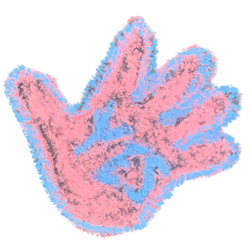 "From little things big thing grow".

Kev Carmody & Paul Kelly
Hands4Yes is available to everyone.
Our individual actions are what create the big picture.
Here's what to do: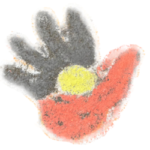 Chalk a hand
Choose a time and place that resonates with you.
Trace your hand in chalk and write 'YES'.
Make it as simple or elaborate as you please.
Create alone or with friends. It's entirely in your hands.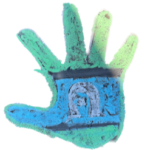 Show your hand
Post your handiwork on socials, along with why you're voting YES.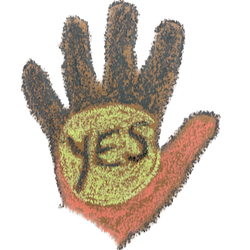 Reach out
Tag #Hands4Yes, #CreateYes, #WriteYes, @democracyonthestreets, and @yes23au in your post, story or reel.
Be sure to share other 'Hands4Yes' from our Insta or Twitter too.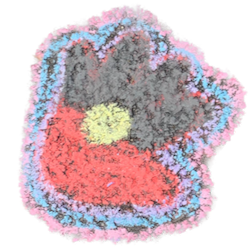 Get real
One of the sweetest things about 'Hands4Yes' is that it returns us home, connecting us to what is immediately at hand.
The magic happens on our streets, in our communities, in real life.
'Hands4Yes' reliably creates space for the crucial face-to-face conversation with friends, family, neighbours and strangers.
This is the gentle power of Hands4Yes.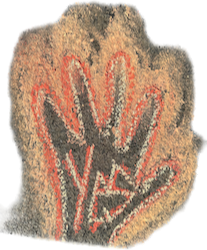 Carry the flame
Take chalk on outings, especially to YES events. Encourage others by modelling.
Use our resources to spread Hands4Yes fast and wide.
Hot Tip: Kids LOVE seeing adults using chalk.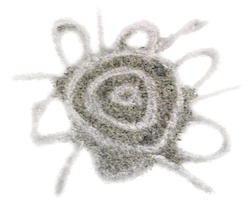 Create community
Connect with friends to plan and compose more elaborate creations.
Check out CreateYes. They will LOVE to share what you come up with.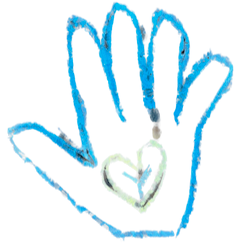 Evolve
Artists and creatives, Hands are only a beginning.
Hands4Yes evolves naturally in the wild.
Make it your own!
Use it as a catayst for creativity.
Check out CreateYES. And go wild!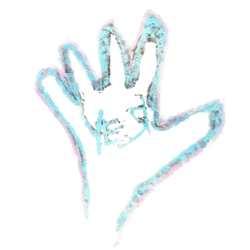 Join hands
We get it. Not everyone wants to touch the Earth.
Like, follow and share our content, including this webpage.
This is super helpful and important, as we're usually too busy talking and chalking to do the work online or get things happening across platforms.
We need all hands.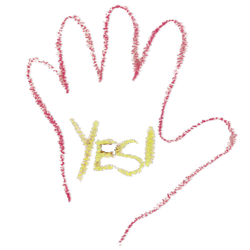 9. Offer a hand
If you believe you may have something special to offer, help sail the ship. Reach out.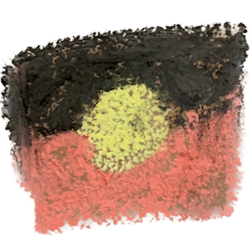 10. Hand it black
We thrive on dialogue. Ask us questions. Provide feedback and suggestions. Share your thoughts.
Inspiration
"No leaves us nowhere, Yes breathes in new air".

Paul Kelly
Check out our gallery!
It show just a few of the ways #Hands4Yes can build community and amplify voice from the ground up.
DOTS is about purposeful play. It spans both visioning and protest.
Check out the brilliant 'Chalk Art for Climate Justice' guide from our big sisters at Chalk Riot. It covers everything you need.
Alongside loads of practical tips, Chalk Riot offer this important legal note:
"[we] assumes zero liability for the actions of those reading this guide. What you do is all you."
You do you!
Our Vision
Imagine! As citizens walk to polling booths on October 14th, whole families outside their homes chalking support for YES.
What a great way to connect generations and ensure children's voices are heard.
Together, we can create a sea of hands that spans the continent.
"Don't hesitate to apply your own initiative and creativity to connect to more people. Be active…"

Thomas Mayo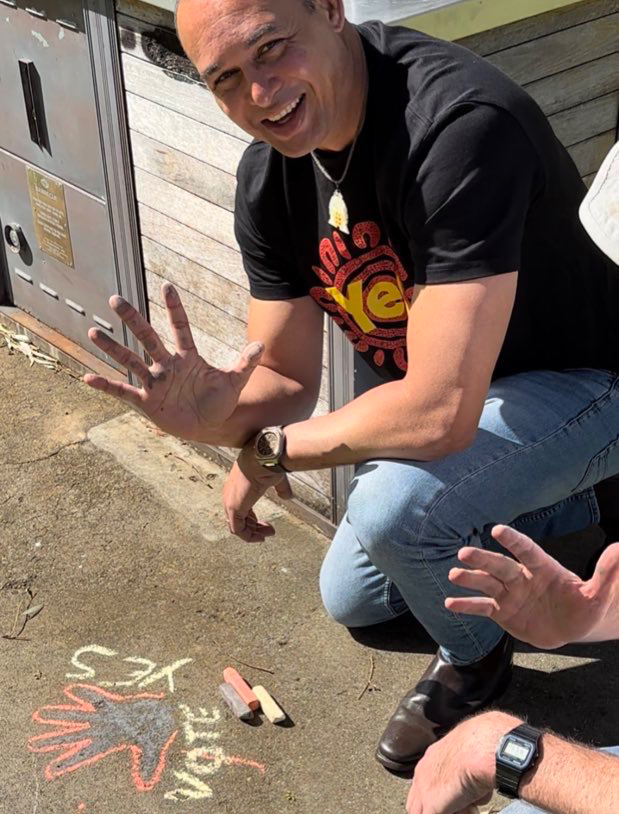 👀 Slow chalking…

Join the DOTS…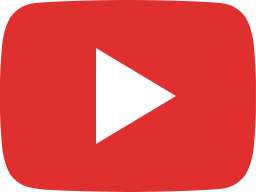 We're Gonna Meet Hate With Love | Referendum 2023 | ✊🏽 Join the DOTS …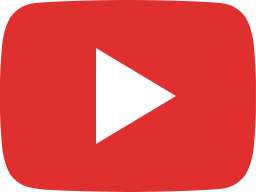 Cannot Buy My Soul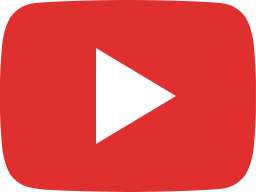 Uluru Statement: 21st December

Resources
Like what you see?
These print-ready resources offer all you need to really fire up #Hands4Yes fast in your community. Just add chalk!
PRINTING TIP: Simply walk into any Office Works and share the file direct from here. It's cheap, easy and effective. 210gsm paper is truly optimal.
PRO TIP: Stock up on chalk while you're there.
If you can print only one thing, print this.
One single A4 sheet creates 16 business-card sized flyers complete with QR-code embeds linking straight back to this page. (double-sided print).
Hand out the card along with free chalk and watch the movement grow!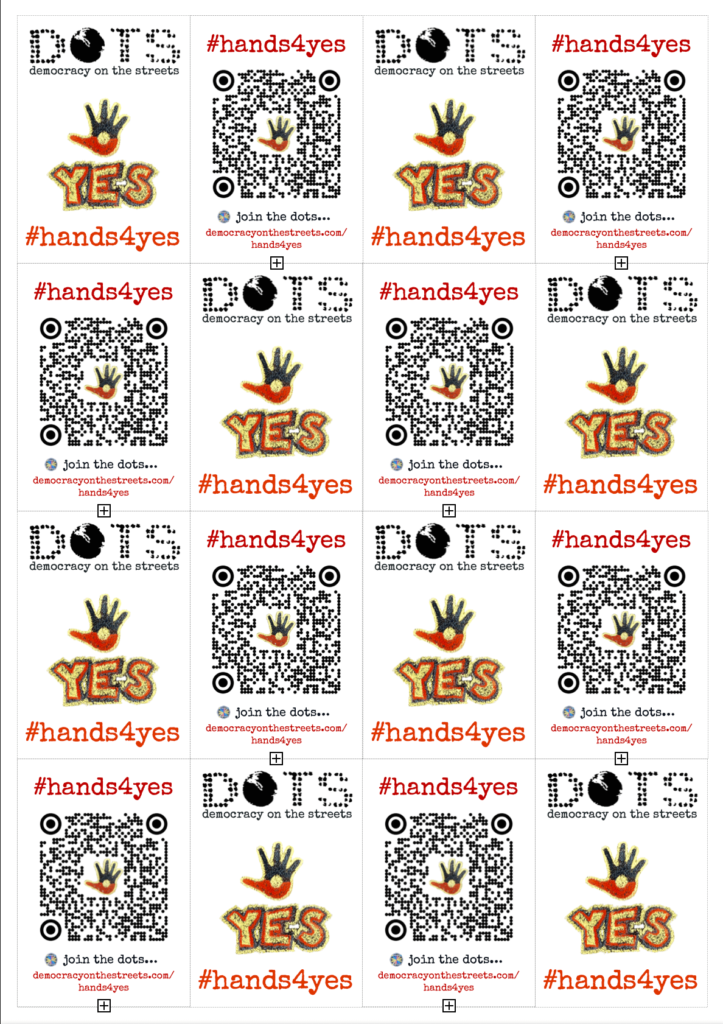 Sit this A4 Poster alongside some chalk and BOOM, you've gone and created a stunningly simple Hands4Yes pop-up installation.
Perfect for community events.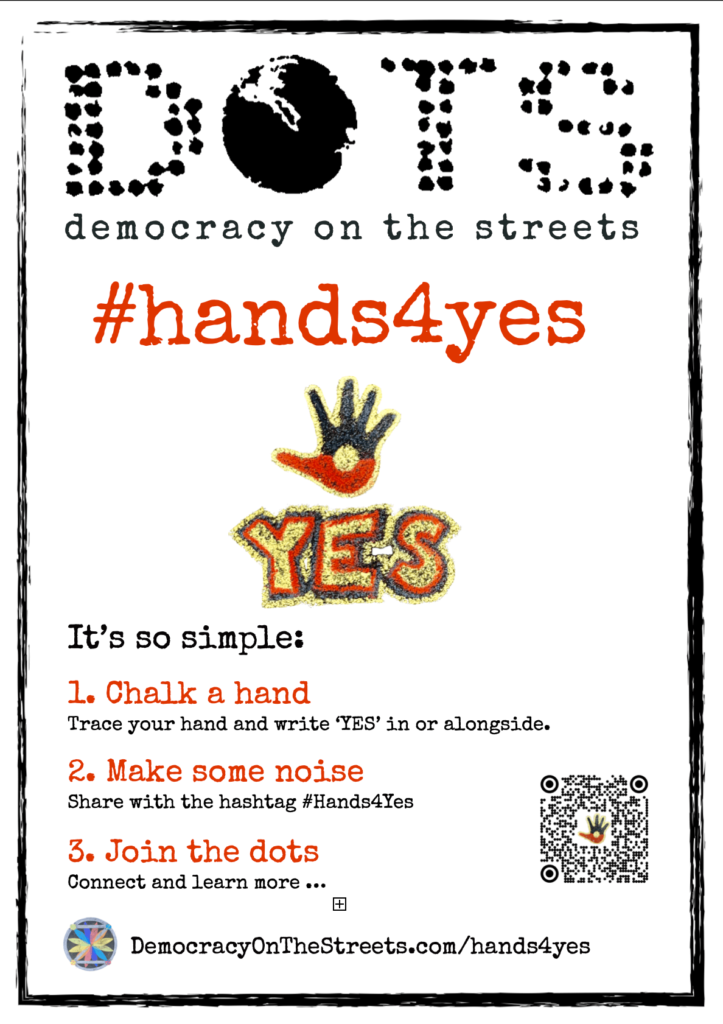 Everyone loves stickers!
Download and share this original design for H4Y by artist Anne, on Kaurna Land. Gifted to you from the heart.
Just ask Office Works to print on 'sticker paper'. Too easy!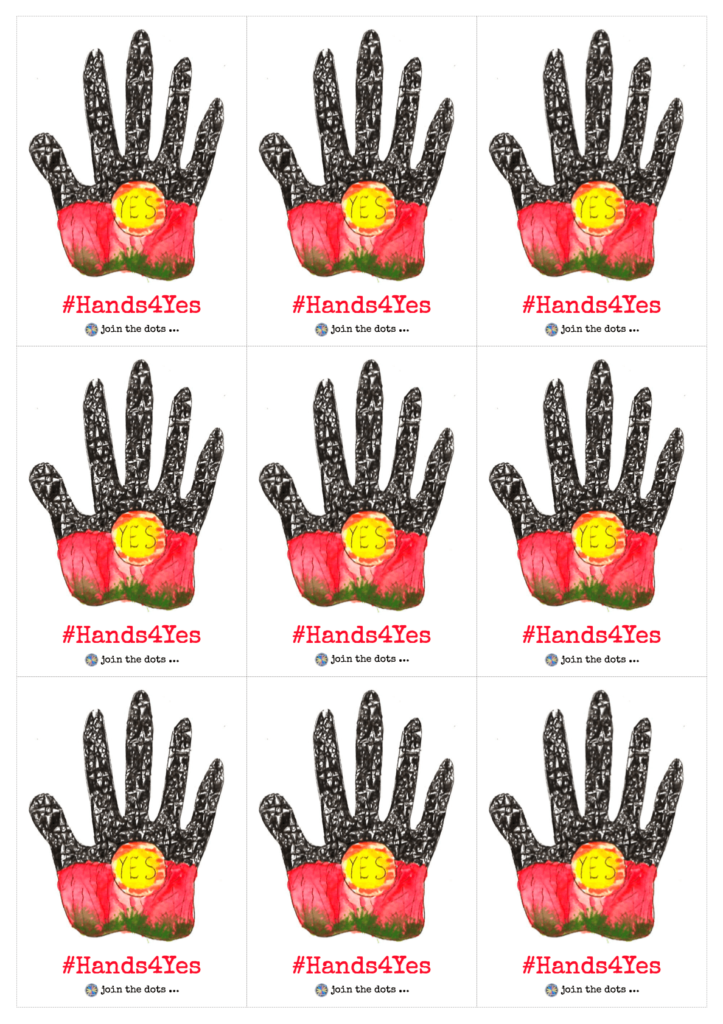 Walk Together
Yes23 The official Yes23 Campaign includes a wealth of information and resources. You can also find out how to become a volunteer … Find out more>
The Uluru Statement The Uluru Statement From the Heart is an invitation to the Australian people to walk with First Nations for a better future. Find out more>
The Voice Design Principles. The First Nations Referendum Working Group agreed on a set of voice design principles when developing the Voice to Parliament. Find out more>